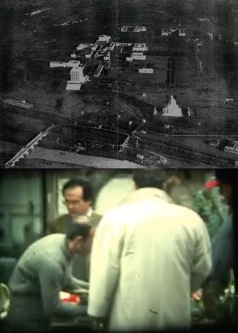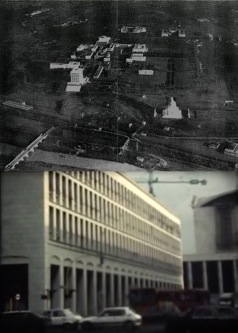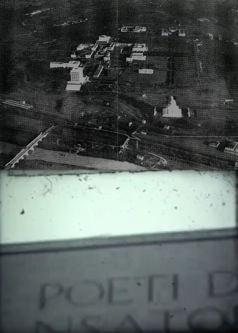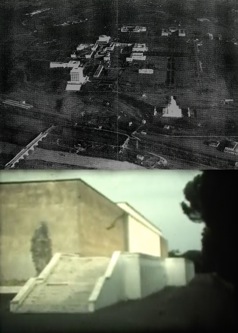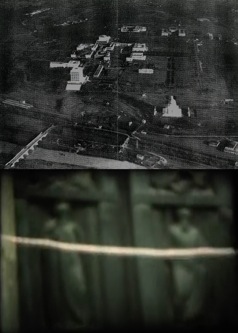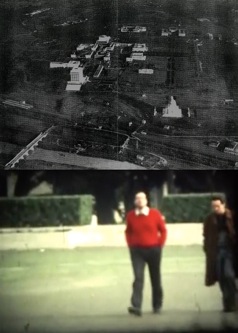 'E42, E.U.R. VITA ELEMENTARI'. Solo exhibition in Gallery OH!, Stichting Kunstbevordering v.z.w. Brussels. 1996. This piece consisted of our Super-8 film 'E.U.R.' from 1993 screened directly under an enlarged photostat copy/poster (a found black & white early photograph of E.U.R.) and 22 photographs taken by us in E.U.R. and other parts of Rome in 1993, which were presented on the wall in 6 plastic maps. (See slides below)
Text handed out at the exhibition:
E.42. was first presented as a vision and plan for the World Exhibition in 1942, and it's main concept was Universality.
The building of E.U.R. (in south-western Rome) started in 1938, was stopped by the second world war, and continued from 1951 until today.
The vision of an ideal, new city in town plan, architectural styles and inhabitants (a people of poets, artists, heroes, thinkers, scientists, wanderers and sailors...) was strong.
Today E.U.R. is the seat for many administrative state institutions, business companies and museums, and has become a popular residential area. P.P. Pasolini lived and worked in EUR from 1966 until he was murdered in 1975.
VITA ELEMENTARI indicates a condition were people in the human trinity of soul, mind, heart confront with past, present and future.
- What am I?
- How do I reach, and stay, in the condition of vita elementari?
- When do I pass the line, and start to produce / consume loosers?
'E.U.R.' Super-8 film from 1993. Filmed in EUR, Rome and at the Vatican, Rome, Italy.